May 25th, 2012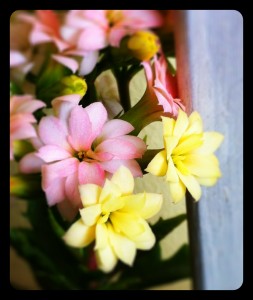 I was thrilled that today we were able to finished getting the flowers planted, the little fountain drained, cleaned and replinished with water, plus with time left over to do all the weekend grocery shopping.   There is something about being able to check something big off my 'to do' list that makes me smile.
Right now-  as I type this- I'm sitting outside- I can hear the birds singing, the wind in the trees and the sound of the little fountain working it's magic in the corner.   It's a gorgeous 'almost' summer day and I feel not only happy, but joyous and content.   That's a lot I know- but my cup runneth over!
Before you wonder-  it doesn't mean that I have the perfect life.  Far from it, but what I do know is that at any given second, I can think of many things to be grateful for- and those things are what I wish to focus on.   Being grateful.   Do you know how much true gratitude can change your life?
I believe I am a grateful person, but being one who is always learning and believing there is always room for improvement- I've decided to start focusing even more on the things in life I'm grateful for-  and that is everything.    Think you have nothing to be grateful for?    Put your hand over your heart and close your eyes-   Feel it beating and know that it's keeping you alive.  If that isn't something to be grateful for- then what is?   Trust me friends- there's always something, and right now- I'm grateful for this moment where the sun is shining, the wind is whistling through the trees and I'm able to sit outside on this gorgeous day and tap out these words to you.