December 6th, 2013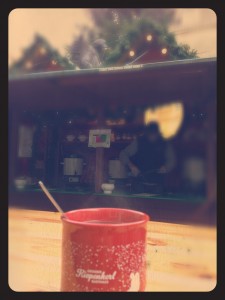 This week- Marcel and I had a well-needed mini getaway.    We rented a small villa on the water so we could spend some time relaxing.    Part of our time away was to go to Munster to the Christmas market, and to explore the city.   We did just that.   The weather couldn't have been more perfect on that particular day in Munster, and even though it was cold-  the sunshine compensated for that.
If you know me then you know I'm not a big drinker, but even I couldn't pass up the idea of a cup of delicious mulled wine-  otherwise known as gluhwein to the Germans.    I talked to the guy in the background who gave me a 'sample' when I told him that I wanted whichever kind tasted the best-   and this was delcious.
Inside wasn't just a warm drink, but also toasted slivers of almonds and raisins-  hence the spoon.
We browsed the markets, dotted throughout the gorgeous city- and sampled some of the wares.    We saw a Santa on a bike- pulling a sleigh, which was the laugh out loud moment of the day.   I loved it!
This day was the perfect way to kick off the Christmas season and get me in the spirit of things.    Something tells me if you can leave a Christmas market and not be feeling festive- then something is wrong.
Have I mentioned how much I love Germany?  Well, I do.    I don't speak a lick of German-  but I can always find a way to communicate-   no matter what the language.
Time to start decking the halls and fa-la-la-la- laaing..