March 2nd, 2011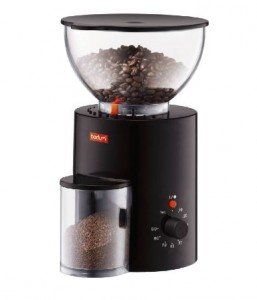 After much searching and researching-  this is the coffee grinder that I ended up ordering.   It's the same brand as the original one that I wanted, only this one is probably a little better quality.   I ordered it yesterday afternoon and the confirmation email said that they would be shipping it within three to four days.    This afternoon I received an email that it had been shipped and I could start tracking it as of tomorrow.
There's a pretty decent chance that I may actually receive it tomorrow because of the method of shipping and the location of the warehouse where it's coming from.  It isn't that far from here, and I'm keeping my fingers and toes crossed that I have it in house by this weekend.
I'm going to be doing a lot of baking this weekend- from quiches to brownies (and a few things in between) so I'm sure there will be pictures and recipes shared.   (I'm also considering starting a food blog- which would be yet another added to the mix, but I've been on this cooking binge lately and have created some recipes that I'd really like to share in one space, so I'm consdiering it.)   If y'all are in the neighborhood on Monday- stop by for lunch- I'm expecting a crowd.
In the meantime-   Don't forget that you have two days to think about 5 O' Clock Friday's.   I have a few ideas for this weeks entry and I'm praying that the weather will cooperate.  In the meantime- I hope y'all will also participate and send in your entries to lori at this site (simplywizardress.com) or post them on your blog and let me know so I can link them.   Take a picture (of anything) that inspires you or of your environment at 5 a.m. or p.m. on Friday.   It's that simple.  Oh, and don't forget to share it, so we all can enjoy.
2 Responses to "Fresh Coffee"