February 4th, 2011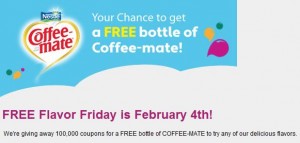 For any of you who know me- it's no secret that I love coffee.   In fact, it's also no secret that I generally drink around 4 cups a day- sometimes more, sometimes less depending on what's going on in my life.  
In addition, the perfect accompanyment to my coffee is Coffee-Mate.  I love most every flavor I've ever tried, and the new Cafe' Collection, which has Caramel Macchiato, Cafe' Latte and White Chocolate Caramel Latte rival some of my favorite Starbucks drinks, for a whole lot less.  (Plus you don't have to leave the house to have them.)   My love of Coffee-Mate is also why I became a member of their Brew Crew, so I can keep up with the latest news, and share it with those of you stop in at this blog- and also with family and friends.
Today is a HUGE day for Coffee-Mate and also for you.  If you haven't tried Coffee-Mate before, or even if you are already a fan- today's the day for you to get your FREE (yes, I said FREE) bottle.   Starting today (February 4th) at 9 a.m. (Pacific time), Coffee-Mate will give away 100,000 bottles for free.  *UPDATED INFORMATION* TO GET YOUR FREE COUPON VISIT- this address, fill in the information and hit submit. (Be Patient as you may have to do it a couple of times as the server has been on overload- as you can imagine.) Visit their website for more details, or visit them on Facebook or Twitter.   Regardless of where you go to get the information-  just make sure you GO and sign up for your free bottle.   After all, it is FREE FLAVOR FRIDAY and that, my friends, is something to be excited about!