March 22nd, 2012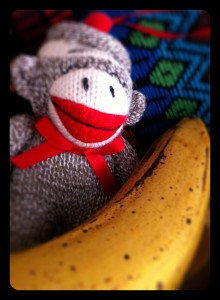 February 20-
I was goofing off in the kitchen, rearranging some fruit and I couldn't help but take this-  I keep that mini- sock monkey in the kitchen scale in the kitchen and I giggled when I put the banana beside him and thought that I definitely needed to take a shot of him 'monkeying around'  ha..
I used to have some socks like the monkeys are made out of when I was growing up- and in fact, I wish I had a pair now for when the winter months hit.  They were such warm socks.  Maybe I need to snoop around and see if I can find some when it starts getting cold again.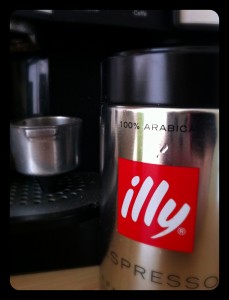 February 21-
There are many things in life that I love-   sunny, blue skies-  the beach- really 'great' quality food and the list goes on- but pretty close to the top of my list would be my favorite coffee-  Illy!   We buy the beans and grind them in our wonderful little grinder, and even though I've thought about buying a new machine-  Our espresso/cappuccino machine we got as a wedding gift 8 years ago still works perfect.   It's a Krups brand and because it's been so great to us- it's definitely the brand we will buy in the future.
What about you?  What's your favorite Brew?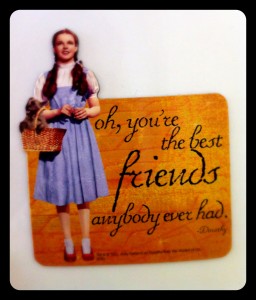 February 22-
While we're on the subject of 'favorite things' –  The Wizard of Oz is also at the top of my favorite movies list.   I have several Wizard of Oz related magnets on the fridge and this is one of them.
When I see it-  I can't help but smile-  Not just because it's Wizard of Oz- but because it reminds me of just how blessed I've been with the good friends I have.     I'm not much on quantity- but quality- and my 'true blues' are definitely quality-   I don't take them for granted, but instead know just how blessed I am- and I'm grateful.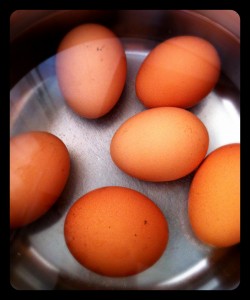 February 23-
This is the beginning of some great egg salad for Marcel.    He had been complaining that he was tired of having cheese sandwiches every day at work and asked if I was ever going to make him egg salad again.    Who can say no to that?  Not I!
So I grabbed some of the free-range eggs that his mom brings us every week from the market- and tossed them in the pan.   Wasn't long before they were part of the salad for him-   Needless to say- he was a happy guy.     The way to a man's heart is through his stomach.. "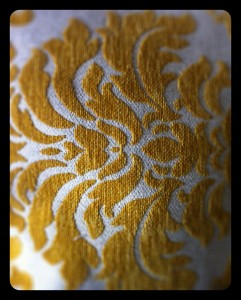 February 24-
The afternoon sun was shining in through the window one afternoon and I loved the way that it looked on this particular throw pillow.   You can't really tell it from the picture, but it's one of the ones I bought to go on our new sofa and I have to say- its probably my favorite.
I'm a huge fan of color- and of yellow,  not to mention textures and patterns.  This pillow has it all.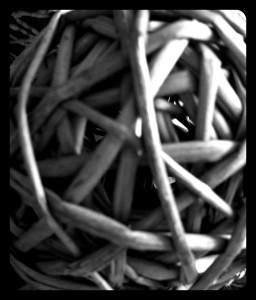 February 25-
Going back to the ball theme-  this is another one of the balls that I have in bowls here in the house.  This one is made of wicker or something like that-   and even though the original was in color-  I liked it better in black and white.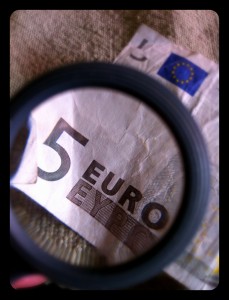 February 26-
Sometimes I amuse myself with the strangest things-  I know.    I have these cheap tweezers with a magnifying glass attached to them and one afternoon I thought it would be fun to go around checking things out from a closer perspective.   This is the result of one of those items.  A 5 euro bill.   I guess I could have hoped to find some type of hidden symbol or such, but there was nothing exciting to see.