January 25th, 2017
If you know me in my everyday world- then you know what a HUGE fan I am of Bob's Red Mill products. It started with me when I tried their steel cut oats. I was so impressed with the quality and flavor that over the years I've tried SO many of their products, I've lost count.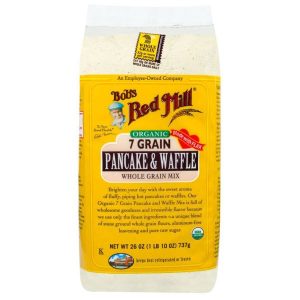 I'm also a big fan of one-stop-shopping and / or ordering, which is why iHerb is one of my favorite places to order from. Their customer service is second to none (which makes this chick extremely loyal), plus they have a vast assortment of Bob's Red Mill products (including gluten-free flours). I also ordered freeze-dried fruits from there (great for baking and other projects), supplements, and even my favorite soap.
This morning I had an email that they were having an additional 5.00 off every order until the end of January, so I cashed in by ordering this 7 Grain Pancake and Waffle mix, along with a few other items on my list.   I can't wait to try this-  It's one of the products from BRM that I haven't tried, and it will be great (I think) to use in my new waffle maker that Santa brought me.
Oh and did I mention there is free shipping on all orders over $40, plus no sales tax!  Yep, you read it right.   Don't Miss out on the 5.00 extra savings until the end of the month, plus the free shipping-   visit iHerb and check out the savings for yourself. You can thank me later.