May 1st, 2014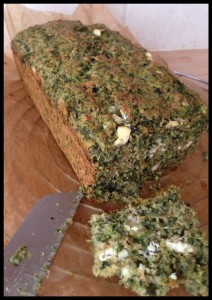 Luckily Marcel isn't someone who doesn't like his veggies- in fact, he is quite an easy guy to cook for, and always appreciative.   On the other hand, he swears that he doesn't like feta, so when I decided to make this recipe- I omitted the fact that the 'cheese' was in fact, the feta that he says he loathes.       Sometimes,  keeping it simple, without going into detail is the best way to go.
He loved the Feta-Spinach bread, and in fact, raved about it.    It was only the next day that he heard me talking about it on the phone with mom that he found out the cheese, was in fact feta.    Surprisingly, he didn't suddenly decide that he didn't like the bread after all, but instead he's been eating it daily.   He's down to the last two pieces, that I suspect he'll have for breakfast in the morning.
I totally changed the original recipe which was given to me by a friend, who found it on the Chin Deep blog.   I'm sure the original was fantastic, but I have a thing about reading a recipe and deciding I need to make it "Lorified" so that's what I did-     I also made it a little healthier by using part whole wheat flour, added some caramelized onions and made some other changes.
The following morning after making it- I toasted a slice, and added a poached egg to the top.  That was breakfast.   Yes- it was amazing, and very filling,  especially since I'd used the whole wheat flour.
I believe that even non-spinach lovers would find this delicious.   I'll definitely make it again, and it would be a meal in itself with a salad, or soup in the winter.