February 22nd, 2017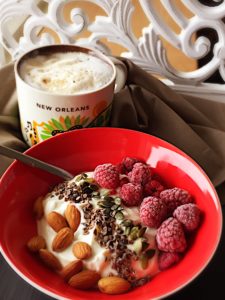 Some mornings I'm not feeling the urge to eat when I first get up-   so rather than eat because I'm 'supposed' to, I wait until I feel a rumble in my stomach and then I eat.    Today-  I had quite a few things to check off my 'to do' list-  One of which was finalizing my business tax paperwork so it could be taken to the accountant, plus some cake prep for an upcoming order.
I have been trying to keep the protein on the higher side-so I decided to opt for some Greek yogurt, a few raspberries, pepitas, almonds and a few cacao nibs for a little something special.  You know-   give it that indulgent feel without being indulgent.
It was delicious-  sans any sugar except the natural sugars in the raspberries.   It kept me full until dinner time, which was my goal.
Now the taxes are dropped off-   I have the evening to myself, so it's time to take a hot bath and curl up with some good TV.