December 19th, 2010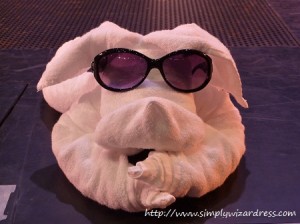 Being a virgin to cruises, I really had NO idea just how many different activities were available onboard the ship.    I'd heard little tid-bits here and there from friends who have been on cruises, but you really don't know what to expect until you are experiencing it yourself.   After all- everyones likes and disllikes aren't the same (thank goodness).
One of the days (I believe it was the last) we had the opportunity to make towel animals.   Towel animals are left in your stateroom each night- along with a schedule of the following day's activities and delicious chocolates.   The towel animal class was fun and this is what my doggie looked like when I finished.   He borrowed my sunglasses, and I must admit they suit him well.
It worked out really well that we had so many indoor activities to get involved in the last day because as we went from the tropical temps of Mexico and entered the cold front that welcomed us home- we found a little rough weather- rapidly droping temps and rains.
I'm trying to break the cruise adventures into bits and pieces here and there.   I'm afraid that too many other things are going on that I'd really like to share so I'm getting a little behind- especially since we've been so busy.   I'm looking forward to a week of baking and spending time close to home- (with the exception of a girls night and hopefully a trip for sushi), and I hope this will mean you'll be seeing more of me.
Have any of you ever been on a cruise?  What was your favorite thing about it?