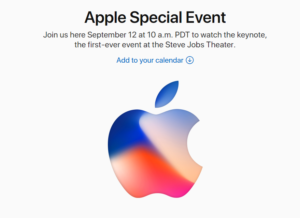 If you know me in my every day life-   then you know that I've forgone renewing my cell phone contract because I've been waiting for the September Apple event.    FINALLY, it has officially been announced for September 12th, where we can (hopefully) expect three new phones, one of which being the iPhone 8.    I can't wait.
An iPhone was my first smart phone and while my other half prefers an Android phone-  I do not.    I always do all of his tech work, plus I'm also my parents tech person, so I was thrilled when they decided to go iPhone and I  have been waiting for this event.
I went back and forth on whether to grab the iPhone 7 Plus when my contract expired, because I really wanted it for my London birthday trip, but in the end-  I decided to opt with keeping the 6 that I have and waiting, albeit no so patiently.
I've read the rumor pages and I'm curious.    Which one will I end up with?  That remains to be seen, but to say I'm excited is the understatement of the year.    Yes-  I know-  I'm a tech geek- and guess what?  I love it!