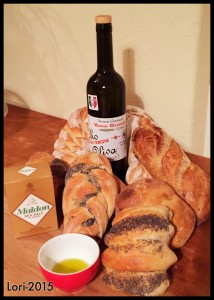 I know that my posts have been few and far between, but we have been traveling here, there and everywhere.
The best part of it all is that I've been able to spend it with three of the people I love most in life:  Marcel and my parents.      I've also started a love affair with Italy and can't wait to share more about our adventures there.
Right now, we are enjoying the last couple of days before my parents leave and head home.   I will miss them so much, but I'm more than grateful for the time we've been able to spend with them making memories.
The plus is that once we say goodbye, we will be able to start counting down for our next visit- which will be for an amazing wedding next year for one of my favorite couples in the world.
The photo to the right is the result of 'some' of the homemade artisan bread mom & I made at a bread workshop with a group of 8 friends.     The olive oil- Vanini Osvaldo, I brought back from Lenno, Italy and I am in LOVE.   If you have the opportunity to purchase some, by all means DO SO!
I have lots of ideas and such bubbling, but right now-   I am going to enjoy the last couple of days with my parents.
Life is indeed- GOOD!  GREAT!