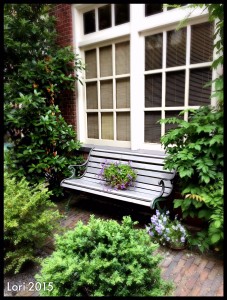 It's no secret that I love the Robert Frost poem The Road Not Taken–  I have a pair of Kate Spade/Keds, which I bought specifically because they said "Take the Road Less Traveled"– and it's one of those little things that I try to do anytime I get the chance.
The predictable path is comfortable and well, predictable- but there are often great treasures (and adventure) to be found on the road less traveled.
Last weekend I found myself exploring a nearby city with a friend.  We had met in this particular city for a few reasons-   The first being that we had not seen each other in almost a year, and the second being that we wanted to enjoy the Saturday 'home-made' market- where not only is there great quality local fruits and vegetables, but also freshly made pastas, tapenades, locally made cheeses and sausages-  and the list goes on..
After we had perused the market and made a few purchases, we decided to head 'off the beaten path' and see what we would find.   We had no goal in mind other than to see where the road took us.     We found some beautiful discoveries, and this photo gives a glimpse of one of the many things we saw.
We often get so caught up in the busy of each day-  getting from one point to another-  completing one task or another, that we often forget to take time to explore beyond our self-imposed boundaries, and as I have learned time and time again-  it's in those moments of being fully present in each moment- and taking the time to explore and discover- that treasures await.
So today-  I challenge you to take that less traveled road-  whatever that means to you-   and I'd love to hear about your discoveries.