If you know me in person, then you also have had the great pleasure of knowing two of my favorite 'critters' on the planet-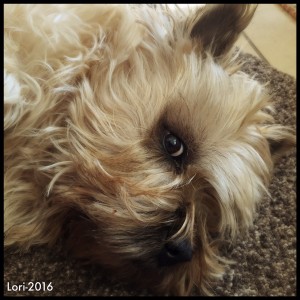 JJ and Mister Mistoffeeles.    JJ, the Cairn Terrier, who never meets a stranger, and pretty much loves everyone.   He's smart, social and a joy.  Even when he's misbehaving and getting into trouble, the looks he gives me often have me cracking up with laughter.
Mister M. is more of the majestic, total zen and cool cat.    He doesn't let much get under his skin, but at the same time he's extremely spoiled.   He likes to drink water from the bathroom sink- and will sit there sometimes for an hour waiting for someone to enter and give him some.   I guess we can't say he isn't patient when it comes to that.    On the other hand,  like many cats, he can be quite demanding- wanting to be petted and meowing until he gets his way.   Stop before he's ready and you'll be met with more meows.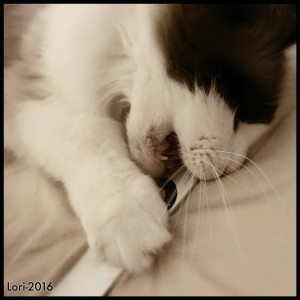 I miss them when we travel and know that it doesn't matter if we leave the house for five minutes or five weeks, they are always thrilled to see us return.    I know not everyone finds pets to bring such joy to their household, but I can't imagine my life without them.   I know Marcel feels the same.
As you can see from the photo (both of these are from my Instagram feed-   you can find me by searching for Wizardress), Mister M. was having one of his moments and thinking that the Apple TV remote was a chew toy-   He is obsessed with it for some reason.   I'm not sure why, but if he had his way and I wasn't paying attention, he would be using it to bat all over the house.
Needless to say, that's not happening.
Even in those little 'naughty' moments, I still smile, and wouldn't take anything for them.    After all, they are our four-legged members of the family.