What a difference a day makes.  As I mentioned yesterday, I was really in a 'mood' yesterday.   I had a great nights sleep, despite waking up several times.   I did wake up with a slight headache this morning, but one cup of coffee later and it was gone.    I made an intentional slow start to the day today even though my to do list was long.  I knew it would also mean me finishing work much later than I would prefer, but I thought it was the wiser choice since I was feeling so blah yesterday, plus had the headache.
It paid off-   I've had an abundance of energy today and I feel great!    I was able to get everything checked off my to do list and then some, plus here I sit with a little time to spare before Marcel gets home from work.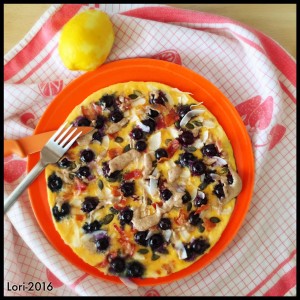 I will admit that I probably didn't eat enough today, but I feel great-  For brunch, I made this odd concoction that was a take on the blueberry fritatta that I made last week.    So it was eggs, lemon zest, blueberries, a little pumpkin seeds, a drizzle of almond butter, coconut- oh and let's not forget the compliant bacon.     It is a weird sounding combination- but it really worked well.  It was delicious!
Dinner tonight ended up being chicken breast, sauteed zucchini with lemon zest and Greek seasonings, a half avocado, and half a sweet potato.   It was filling and I am not feeling the desire to eat anything at all.
Tomorrow is another busy work day- and hard to believe that I have 9 days left until I'm done.
I'm looking forward to seeing how I feel at the end and moving forward.  One thing I know for sure already- is that I'll be taking with me what I've learned and applying it to life post Whole 30.