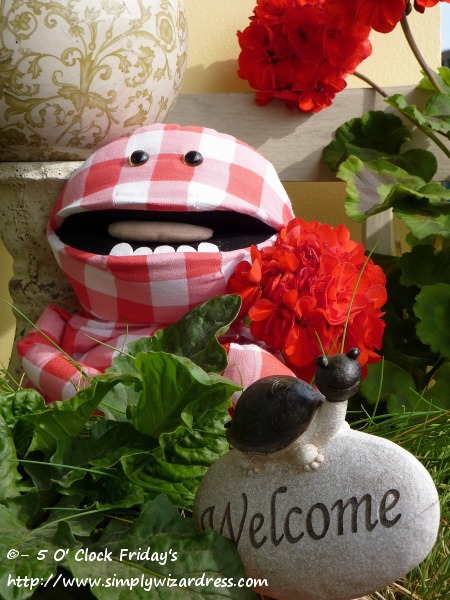 This weeks 5 O' Clock Friday's picture had me going for something a little different.  Usually I scramble around at 5 and take a quick shot of something, but I knew what I was going to do this week before it actually rolled around. 
I mentioned last week that I had a new travel partner, and this week's 5 O' Clock Friday's picture features him.  His name is Mr. Jummy (prounounced Yummy).   Isn't he cute?    I thought he would make a great traveling partner, just like Foggy did years ago (for those of you who read my former blog- you may remember him), when my parents traveled abroad for the first time.    We created an entire book with Foggy for my nephew, because he wanted to go on vacation with my parents but couldn't, so they took his pink bunny- Foggy along.  Needless to say, Foggy went from a beautiful pale pink to a dusty, dirty pink, but he's seen the world.
I thought it would be great to show y'all where Mr. Jummy enjoyed his first adventure – which was smack dab in the middle of some of my flowers.   He seems quite happy there, wouldn't you agree?
Expect more adventures from Mr. Jummy as I travel from here to there, and in the meantime- feel free to share your own 5 O' Clock Friday's pictures by emailing them in to me, so that I can post them here, or post them to your blog and let me know, and I'll link you.