I was so excited to have been able to surprise Marcel with a lunch out for Valentine's Day that I actually won from a 'give away' on Instagram.  How cool is that?     I decided to participate on a whim, but I was glad that I did, because the restaurant, somewhere I'd never been turned out to be a huge WIN!   The food was delicious and the service also great.      I had a wonderful spinach and warm goat cheese salad with sun dried tomatoes and Marcel went for the club sandwich and french fries.    We were both happy- and because it was a late lunch- dinner ended up being very light last night.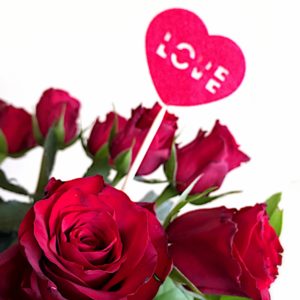 If you follow me on Instagram, then you know that last week we were covered in a blanket of snow & I spent part of the weekend enjoying the bitter cold temps and snow play.    Yesterday and today-  it's more like Spring, with blue skies and plenty of sunshine.   The snow has practically all melted, but I love the contrast and find joy in both, much to the surprise of many.
Even though I suggested he 'not' do anything for me for Valentine's Day-  as I believe every day is a day to show love, he still surprised me with some gorgeous deep red roses, that I admittedly love.
Our evening was far from exciting, but we did things our style- which meant lounging and watching our favorite TV shows.     Tonight will be more of the same, while tomorrow…. well, lets just say it's that time of the year.   More on that tomorrow.  As for now, it's time to catch up on the latest episode of Bull.