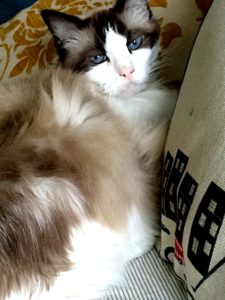 It has been a while.   Some of you who don't follow me on Social media may be wondering if I survived and made it to the version 5.0 & the answer to that would be a resounding YES!
With that being said, the recurring theme seems to continue to play-   Life has been busy-   Insanely busy to say that least, but with the daylight hours getting shorter and the hint of Autumn in the air-  I suspect that things will start slowing down soon.
I had an amazing time in London for my birthday with Samantha.   I will share more about that on another day.  Since she left- work has been in full force and earlier this week my sweet boy Mister Mistoffeeles went in for thyroid surgery.   As I type this-  he's lying beside me sleeping, with his makeshift collar around his neck.   He wanted to scratch his wound area, so I cut up an old sock and put it over his head-    thus far it's working and he doesn't seem to mind, which is the best part.
I am grateful to the vet for suggesting the surgery.   The medication was working just fine- but it was a twice a day ordeal, plus when we travel we need to make sure that someone will give him the proper medication at the time needed.    There is definitely the possibility for error with that- as we found out the first time we went away after he was diagnosed.
Now, he shouldn't need medication any longer.    Granted, there's the possibility that the other side of his thyroid will have issues-  but that is a bridge I will cross if I need to.  Right now, I don't have to think about it.  Instead, I can kick off the weekend with time spent cuddling my favorite feline.