It has been a hustle and bustle kind of week.    I'd love to say that I've got everything together- have the tree up and it's looking festive in here, but I'd be lying.    We have the tree, but it's yet to be brought in and decorated.    We DO have the lights and decorations out-    so that's a step in the right direction, but I've been swamped with work this week.   I'm grateful- oh so grateful, but I've been baking my  heart out-  with more in the works.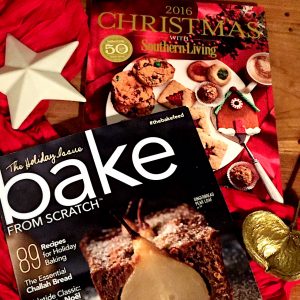 Thankfully, I'm a little ahead of schedule after running behind schedule earlier in the week, so that is a huge plus!  Tonight I took some time and finally cracked open my Christmas with Southern Living book that I'd ordered but not taken the time to look at yet.
I've also been itching for the Bake from Scratch holiday issue, so was able to browse it a little as well.  Both are favorites, but I'm one of those people who will leave a cookbook sitting for months if I can't stop and fully savor each and every page.
I know it may sound silly, but it's true.  There's something almost ritualistic about it.   Pure enjoyment and focused on the season at hand.
I've seen several recipes that I want to make for our own holiday table, including my grandmas praline recipe that I improved a couple of years ago, plus divinity.    My dearest great aunt sent me a gallon of pecans that she's picked up from her orchard and shelled.     It was an amazing gift, and something that makes me want to create something special with the fresh pecans that I know were sent with much love.
I want whatever I make with some of them to be made with love and deliberation, but also something that the flavor of the pecans will shine through.
What would you suggest?   I'll be sure to share what I decide to make, but as for now- I've got some relaxing to do as tomorrow a villiage of gingerbread men await my services.