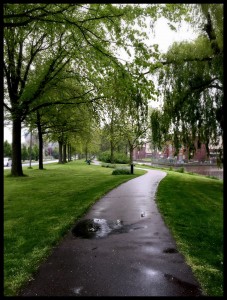 This morning I woke up first to the sound of my alarm humming a quiet medley, and at the moment I turned it off, I could hear it…. The sound of rain falling.
We've had day upon day of glorious Spring weather, so it's only fitting that to keep things in balance- sometimes it rains.
I had set the coffee to work it's morning Magic the night before, so I stumbled half-awake into the kitchen to find a hot cup waiting for me.
I would be lying if I said an unplanned walk in the rain is something I enjoy, but since I've had plans for months to go to our first book club meeting- it trumps the rain, even if it means getting a little wet to get there.
Thankfully, by the time I headed out donned in my yellow rain slicker, and umbrella in hand, it had slowed to a fine drizzle- I picked up the pace and managed to say mostly dry by the time I arrived at the train station.
Oh, and I passed quite a few mallards enjoying the weather to the fullest.
There is beauty to be found in every day- even the rainy ones, and even if you aren't a duck.