Happy Sunday y'all.. Things have been a bit like a roller coaster here- up and down- mostly with ups- but I am 'still' waiting on my laptop to be returned to me. I did see that the Toshiba site said they were finished with it- so I'm waiting to hear more. Hopefully I'll have it soon, then comes the task of getting it back in order with installing everything etc..
The weather has been great this weekend, which means some time spent outside. I've also been adoring the new (to me) Marco Polo app. Do y'all have it? If not- look it up and check it out- because it's a great way to keep in touch when you want to say something short (or not) but don't want to type it all out.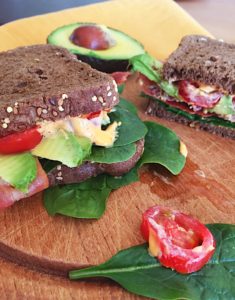 Yesterday I was home alone and despite having leftovers- I was craving a sandwich, so that's what I made- a bacon spinach tomato and avocado sandwich. Tomatoes aren't in season, so cherry and grape tomatoes were the flavor of the day- I toasted the bread and added Sriracha garlic mayo .. to knock it out of the flavor park. It was delicious.
What are y'all eating this weekend?