I am sure I'm not the only one who feels solar powered at times.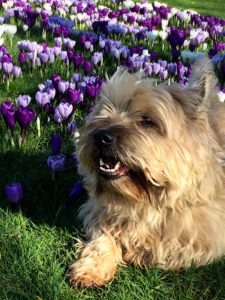 This morning I woke up to fog, but within a few hours it had burned off and it was an absolutely gorgeous Spring day.   It was a little windy- and for some probably a little too chilly, but for me-   perfect!   I felt as though I was plugged into the sun and my batteries were charging away.
Even JJ was feeling the energy from the sun as he was definitely showing a case of Spring fever.   SO much so that it was difficult for me to get him to sit still long enough to pose for a photo in the crocus- but he did- and I was a happy pup owner.
This coming Sunday-   the clocks in the United States spring forward one hour.   Giving an extra hour of daylight.   Don't forget to set your clock forward an hour late Saturday night before bed, so you won't be late to any Sunday appointments, or even work on Monday- if you happen to forget to spring forward all together.