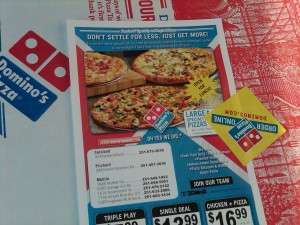 This past Friday mom sent me this picture for her 5 O' Clock Friday's submission.   As you can see- when Friday rolled around she was picking up a pizza for her and diddy for dinner.
Ironically- after seeing that Domino's ad, I started craving pizza.   Marcel and I rarely eat pizza-  In fact, we've ordered pizza once this year and the other times we've had pizza, it has been the zucchini crust pizza that I make..  but this time I wanted Domino's, so yesterday afternoon, after spending a wonderful afternoon in the company of friends, we ordered pizza- and I indulged.   In fact- I over indulged.. but it was so good.     Two hours later I felt like  balloon was expanding in my stomach.   I guess that's one of the reasons why I never eat pizza but boy was it good when I ate it.
As far as my own 5 O' Clock Friday's submisison- there isn't one.   I completely forgot about it- and when 5 rolled around I was getting a cupcake order ready to deliver and taking another order that I needed to have done for today.    All while trying to have dinner early so I could get away for a Haunted Walking tour of a nearby city-    It was a busy day to say the least.
Maybe I'll get one next week!