May 21st, 2015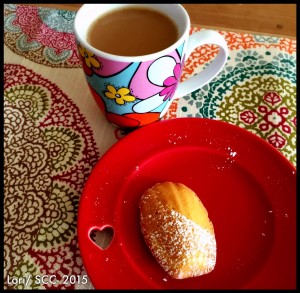 Those of you who know me in my everyday life know how much I love to create.    That subject of creativity is a broad-stroked brush, because there are so many things that really tap into that creative side of me-   painting, writing, making jewelry, gardening, and cooking are just a few of those creative outlets for me.
I'm one of those people who need to be challenged-  according to my mother-  I've been that way as long as she can remember, hearing the story of how I came home from school in the first grade saying I wasn't going back until the teacher started teaching us to read.     The 'writing' the  ABC's was boring because that was something I'd long mastered.
So apparently challenge keeps me from getting bored, but I digress.
Most of you also know that I own a small company-   and I've recently expanded and have created a new service- which has it's debut run next weekend, but again- I digress, even though I'm getting to the point- I promise.
French Madeleines have been on my list to make for quite some time- but since I like to create (see the theme here ? ) my own recipes- I hadn't done anything with it, because quite honestly I've had other irons in the fire.    But here and there I'd read and think about them, but another big downfall was I had no madeleine pan… another big problem.   After all, what's a Madeleine without the pan?
So I ordered one online-  and since I didn't have any big plans today-   I decided to put the recipe idea I had in my head to the test- as a 'possible' for the menu for my new business expansion venture.
I'll admit I had no idea how it was going to turn out- but I trust the creative and scientific process of baking- and honestly, I never think about 'if' something will turn out- because if it doesn't- then I've learned something and I'll make adjustments and move on.   That happens to us all.
But in this case- something magical happened-   these little light, buttery treats turned out perfect, and admittedly- I did a little mental happy dance.
There is joy in the little things-  and in creative successes, and this is definitely one of them.