March 15th, 2014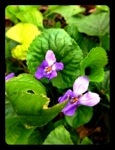 I was out walking a few days ago and even though I 'knew' the signs of Spring had been popping up everywhere (thanks to my over-active allergies, plus the abundance of daffodils and crocus I've been seeing), I still can't help but smile when little signs pop up in unexpected places. These tiny little violets, were a vibrant burst of color at the base of some bushes that haven't yet shown any sign of life.
It reminded me of a quote I read recently from The Dance of the Dissident Daughter. It reads: Hardly anything reaffirms birth to me like daffodil bulbs. Put those seemingly dead brown lumps in the ground, and they will defy rock, storm and pestilence to emerge and unfurl themselves.
I've read that quote quite a few times since I first came across it, and each time it resonates with me more. Not simply on a nature state of going from one season to another, but also, how no matter how unlikely things may seem- or even impossible, that if we stay focused on the goal at hand- and don't allow obstacles to stop us, but instead make us stronger.
It is a reminder to me on this grey day, that no matter how things may appear- there is always something bright and shining waiting to come through.