December 18th, 2011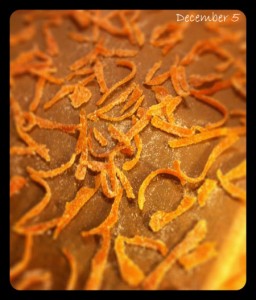 December 5-
This is the beginning of dark chocolate dipped candied orange peels.  Dark chocolate and orange are one of my absolute favorite flavor combinations- and I thought it would be nice to attempt making my own.   It was a little bit of a process- but not difficult and all I can say is WOW.  I'm not sure at this point if this is a good or bad thing- because they are SO good, but I have a few ideas brewing in my head.   One thing is for certain- they make great gifts for those who like chocolate and orange.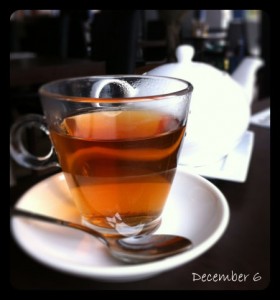 December 6-
Desere and I spent part of our morning at a high-tea that she'd bought for us to go to.    We had lots of interesting goodies- many of which were new to us since it was Greek, but it was SO good.    
It was a fun 'girl' time and something we defintely need to do more often.   I always enjoy getting out with my favorite girls.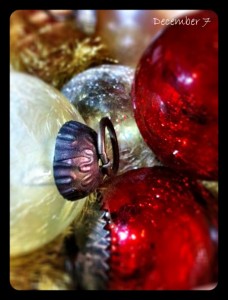 December 7-
I will be the first to admit that I have been somewhat lost and behind on the whole "decking the halls' thing- but I did manage to put my favorite cracked glass balls in a crystal bowl and on the coffee table for decoration.   
When I did- I decided to take a quick shot of it-  and it became my photo of the day.     That was the ONLY decoration in house- aside from an undecorated tree for quite a few days.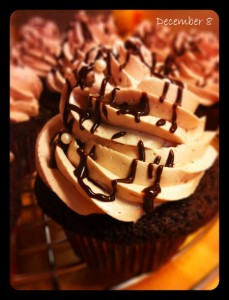 December 8-
I notice a distinct theme here and it seems to be dog/cat/food. ha..  I guess you can see what I've been most busy with.
This day had me back in the 'cupcake kitchen' and whipping up some Very Cherry Christmas cupcakes-   Devils food with a hint of cherry- Swiss buttercream with cherries and a Callebaut chocolate ganache drizzle.   Oh Yeah!   They were good- but I will admit they need a little more cherry-  I'm working on changing a few things to make it just right.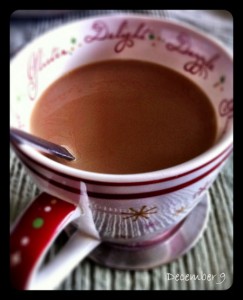 December 9-
During the month of December – I'm using my old Starbucks Christmas mug almost exclusively.    I was having coffee one morning and thought I'd take a quick shot so I could share just how cute it was with everyone else.
I love Christmas- and this is one little way that I can bring the joy of the season to each day.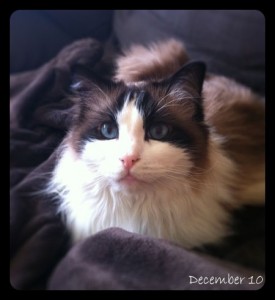 December 10-
This is one of my favorite pictures of Mister Mistoffelees.   He was lying on a blanket on the sofa- and at just the right moment he looked up at me and I thought about how beautiful it would look as a picture-  I grabbed my camera- and figured he wouldn't participate when I wanted to take a shot- but he did and this picture was born.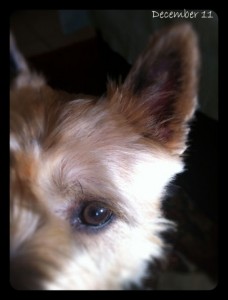 December 11-
I was drinking some tea and JJ came and sat right beside me.  The sun was shining and gave some great lighting for this shot-  I didn't center it but instead took part of his face instead of all of it.
The little guy has been sticking very close to me lately.  I think he knows I've been struggling a little and he has been wonderful- following me everywhere and staying at my feet when I stop.    It's a good feeling to be loved that much.