December 30th, 2011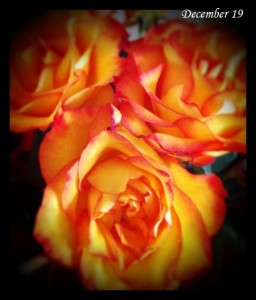 December 19-
A few things had happened that had really put me somewhat down in the dumps (so-to-speak).    Desere stopped in for coffee and she brought me a beautiful bouquet of roses.   This is a picture of a couple of them.   They were so beautiful-  they looked like a blazing sunset- it's pretty much the only way to describe them.   Brilliant yellow, orange and red colors.   They were beautiful.   She said she saw them and they reminded her of me. 
I hated to see them die because they definitely brought some sunshine into my life.    I am blessed to have the friends that I do-    and don't know what I'd do without them.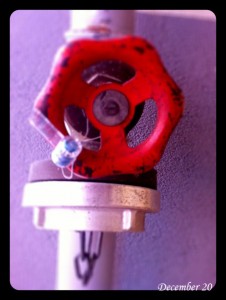 December 20-
I passed this emergency water faucet and I couldn't help but be drawn to the way that it looked (after all it's red), so I decided to grab a quick shot to use for the photo of the day.  I took a couple- but this was the one I liked best, although I think I'd like to go back with my Nikon and see what it can do.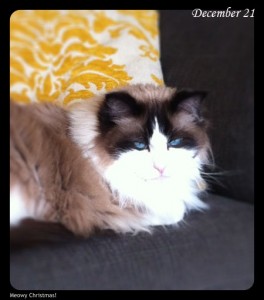 December 21-
Mister Mistoffeelees-   enjoying some afternoon sun on the chair.    He spent a lot of time curled up in that chair sleeping last week, so I was surprised I was able to catch a moment of him fully awake to tae a picture.
I loved the contrast of the cushion against him and the chair, and then there's those beautiful blue eyes.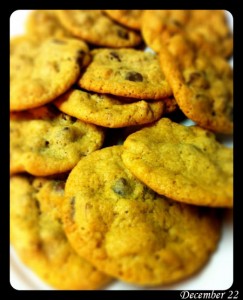 December 22-
My favorite chocolate-chip pecan cookies.   I made these for Marcel to take to work and for Desere to take with them on vacation to Spain for Christmas.    They turned out great- and these are just a few of them. 
They were a huge hit by everyone who had them, and another reason that this is my favorite of all chocolate chip cookie recipes.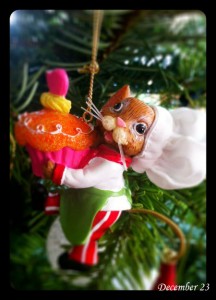 December 23-
This is one of the Christmas gifts that Desere, Hein and the boys gave me.    She said they saw it and the boys told her she had to get it for me- and I'm glad they did.   It is perfect-    I've seen quite a few cupcake ornaments, but none quite like this-   I thought it was adorable, and this was a picture of it hanging in our tree.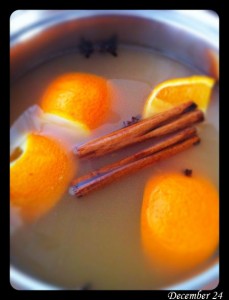 December 24-
Spiced cider-  one of my new loves for this unseasonably mild winter we are having.  I made some of this Christmas Eve and drank it all-  Technically it only made two mugs full, but it was so good I was wishing I'd had more.   
I made another small batch on Christmas Day- again only enjoyed by me.  No one else even dared try it, but I didn't mind.   Apple cider- orange, cinnamon and cloves–  nothing more.   Perfect!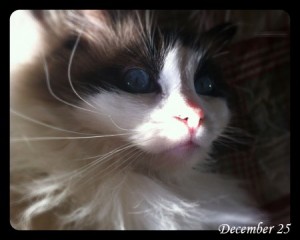 December 25-
My favorite kitty on Christmas morning-     He was looking somewhat wild and as though he was about to pounce something or someone, but the reality was- he was happy to be lying in the sun and happy to get the attention from me.    Can't you see he's smiling?
One Response to "December 19- 25 (Photo 365)"