April 8th, 2011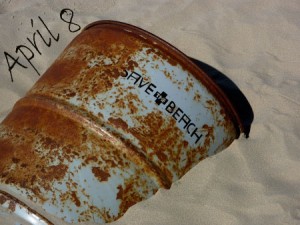 Today- Marcel, Hein, Desere and I decided to make the most of the fabulous weather that we're having and met at our favorite beach cafe for coffee.
The day couldn't be more perfect, and I debated whether I'd share a picture of the blue skies and sand dunes, but in the end- this picture won out.    I found it quite ironic that this 55 gallon drum- which was probably once meant to be used as a garbage can and is now mostly buried in the sand- carries the message "Save the Beach".  
After looking at it for a while, I have to wonder if someone put it there intentionally to serve as a sort of 'beach art'.   I know-  sounds weird, but it's entirely possible.    It was literally 10 feet from the beach entrance of our favorite beach cafe', so it makes sense- at least somewhat.
What do you think?   Trash or Art?
One Response to "Day 8- Photo 365"