February 7th, 2015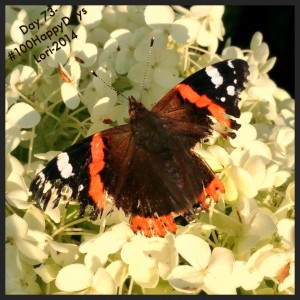 Today and every day these words associated with this day hold true-
I was recently at a beautiful celebration of marriage party- and this butterfly made an appearance time and time again.

Butterflies bring a smile to most faces, and this one was fluttering around, lighting on several of us- as though it was celebrating with us. It was beautiful.
I followed it to this hydrangea to discover that the gorgeous butterfly, who fluttered so gracefully, had the most tattered wings. By definition- this butterfly was damaged- to the point that I was surprised it could fly, much less as well as it did.
It was a great reminder to me that we have all had our moments where we have been broken in some way or another, but it doesn't mean that we can't continue to be beautiful and fly.
After all- even those butterflies with broken wings can soar with beauty and Grace- So can we!!