April 7th, 2011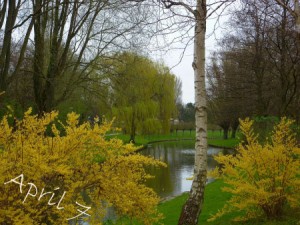 I didn't have a lot of time today to get out and 'play' with finding the perfect picture, not to mention the weather wasn't exactly cooperative, but I did manage to grab a shot at the park across the street from our home.
I love the bushes in the foreground, or at least I love them in the Spring, when they are a bright yellow for several weeks.   Just seeing them bloom always brings a huge smile to my face. 
The sun played hide-and-seek most of the day, which left us guessing at what moment it would appear and then duck behind a cloud and disappear yet again.   Tomorrow should be a little better- at least I hope so, since we have a morning trip to the beach planned.
One Response to "Day 7- Photo 365"