February 3rd, 2015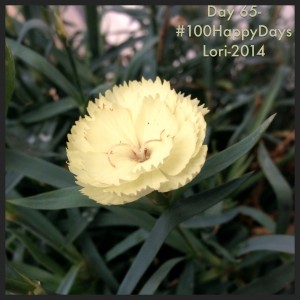 Reading this brought tears to my eyes, but the sentiment written with this 'happy' day-  is never changing-    Even in the face of change-  there is always one constant-  my 'true blue' friends, of whom I am so grateful and adore beyond words..
My post about this mini-carnation 'happy'- Several years ago, I bought this mini-carnation plant in honor of my friend Carol's memory. Carnations were her favorite flower, and when I look at and smell them I'm reminded of her laughter, her fierce loyalty to those she loved, her genuine heart of gold, her ability to love deeply, and the true friend she was to me and so many others.
She always told me the truth, even when the truth isn't what I wanted to hear, or sometimes wasn't ready to hear. Her honesty, was one of the greatest gifts she ever gave me alongside her friendship.
Thinking of her, our friendship, and the beautiful circle of friends I have, makes me happy. I cherish each and every one, and am grateful beyond what mere words can express.