January 31st, 2015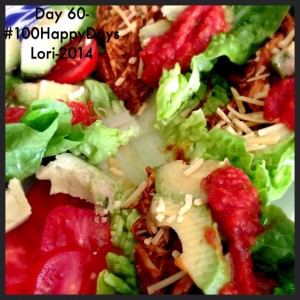 Looking at this makes my stomach rumble, and also reminds me that I still have some mole paste in the fridge that is itching to be used for some mole turkey-   and some Mexican fiesta!
There is nothing like good, fresh food and this embodies all that and more-
On this gorgeous summer day-  I shared this with day 60-
Fresh, delicious food makes me happy!! Turkey breast with fresh mole, imported from Mexico from my friend Alma, on romaine wraps, avocado and tomatoes from my garden. Happy tastebuds!