January 28th, 2015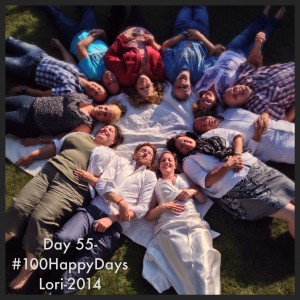 Of all the days in part one of the 100 Happy Days series, this is probably one of my most favorite.  Granted, I had many wonderful moments during that 100 days, but this photo embodies what was an amazing day of love, laughter and close friendship.
It was the day spent celebrating the wedding of our dear friends Erin and John.    This was the day of their reception and was themed with 1000 Nights.    But before we all took a pause in the late afternoon, and went off to put on our party themed clothing- we took a moment in the sunshine and paused for a moment that embodied the day perfectly-   a circle of friends celebrating a beautiful couple.
The reception was one of the coolest I've ever been to-   and I am so grateful to be a part of this amazing couples' life.