October 18th, 2014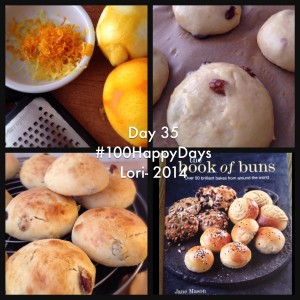 On day 35, these buns were a HUGE happy in my life- (and in the life of those who were lucky enough to be able to eat some of them).
One of my goals this year was to learn how to break breads from scratch-  not quick breads, not bread machine breads, but yeast breads, which required kneading, rising and all that good jazz.
This book is amazing, as is the author.   Her passion for bread shines through in all that she does, including sharing all the techniques to learn how to make gorgeous buns and breads.
My new goal is to one of these days take one of her bread workshops-   but in the meantime- I'm loving baking through this book with a group of people from across the globe.