April 10th, 2011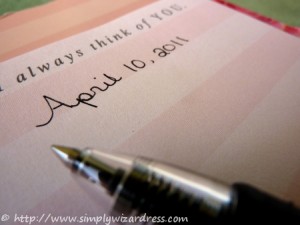 After a fairly busy morning of sleeping late and reading my Kindle in bed,  I decided after brunch to take a walk with my favorite guy and pup.   Since my favorite guy wanted to watch a soccer match, it only gave us an hour, so we headed out to the park by the castle.   5.14 km and 50 minutes later, we arrived home.   Well, I take that back.  Marcel and JJ arrived home before me, since I wanted to make sure that I completed the 5k – so I continued the walk and they came home.   It only added about 3 minutes to my time, but I wanted to complete the goal. 
After drinking several glasses of water, I decided to spend some more time outside enjoying this fabulous weather we've been given, by writing a letter to a friend.   That was the inspiration for today's photo.   I took several shots, but this was the one that I liked the best.   
Once I finished with the 'picture taking', I went back to the letter and spent about an hour catching up with a dear friend, as though she was sitting in the chair beside me and enjoying a cup of coffee with me. 
After today- I won't be adding daily entries with the pictures, but instead, will share the 'week at a glance' by adding the pictures from the entire week on Sunday.   So if you're following the 'photo 365' here-   be sure to check back next Sunday- and feel free to stop in any other time along the way.
Several other friends of mine are participating in this project and I always enjoy seeing what people choose to photograph.  If you are participating- let me know so I can 'check out' your pictures as well.
4 Responses to "Day 10 – Photo 365"