December 21st, 2012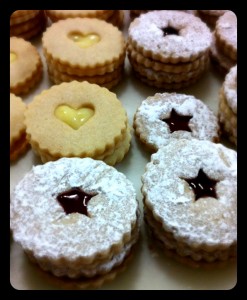 This photo isn't the best- but I spent the better part of yesterday baking cookies-  LOTS of cookies-  two batches of fudge- and a cake.    This is two of the batches I made- after I filled them a little while ago.   They are 'resting' right now and I'll put them in a container shortly where they'll stay until tomorrow.
I can't believe Christmas is tapping at our heels- but I'm definitely looking forward to the next week and a half of the year.   If I can make it through without gaining 5 pounds- it will be a miracle- but that's a post for another day.
In the meantime-  the cooking has been done- but I do still have gifts to wrap- so I'd better get those done.    Tis the season!