January 23rd, 2017
I am one of those people who absolutely loves each season for their own uniqueness.    During the winter months, I could eat soup every single day, but of course that doesn't happen, as I do believe my dearly beloved would not approve.     My favorite winter weather?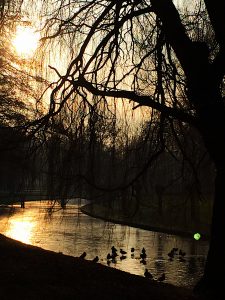 Icy cold temps (preferably snow- but we can't have everything all the time), blue skies and sunshine.  It makes me happy and despite the temps, I don't mind being outside in the cold (often without a coat- but my favorite blanket scarf and a thick sweater), in fact, I love it!
Yesterday I cashed in on that exact weather and took a long walk in the late afternoon.   I'd planned to go earlier in the day, but a friend stopped in for coffee, which is so worth delaying the walk for.   She was limited on her visit time- as she had other plans, but we spent a little more than an hour catching up and enjoying some good girl talk.
As I was out walking with my favorite canine-  I couldn't help but notice the afternoon sun reflecting on the frozen canal, the ducks gathered at the edge of the one spot in the shadows of the bare willow tree where the water was still accessible.   I took a moment to soak up the beauty and snapped a few shots before moving on.
I couldn't see the photo very well- because of the glare on my iPhone screen, but the photo you see is what I found when I got home and into the light.    It captures the mood of winter and when I look at it I smile.    Some may find it dreary, but I see beauty of the season.
I came home and curled up with a cup of my favorite Chai tea, a cookbook that had been on my 'to read' list, an old quilt (you know- the ones that wear like your favorite pair of jeans)  and the always magestic, Mister Mistoffelees.