May 1st, 2009
Have you ever been out-and-about and something you see draws you to it like bees on a flower? That was the case with the photograph below. I happen to catch a glimpse of it out of the corner of my eye, and was drawn to it for further inspection. I'm not sure if it's the contrasting colors, the reds, or exactly what, but I knew I had to pull out the camera and see what it would capture.
Rarely do I actually 'like' any of the shots that I make, but I found this one to be 'interesting'. It reminds me of something, although it hasn't come to me yet, what that something is.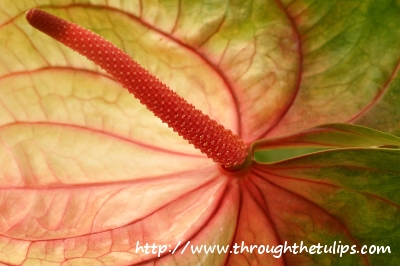 Because I haven't asked one in a while- A question of the Day- What is your worst habit?
I'm not sure it's a habit, but I worry- about things I have no control over. It has definitely gotten better in the last years, but I still have room for improvement.
Oh and when I chew gum, I simply MUST pop it. Which is why I don't chew gum often. I start pop-pop-popping without realizing. It's very annoying to a certain mom and diddy.
5 Responses to "Colors, Contrasts and Questions."