August 7th, 2015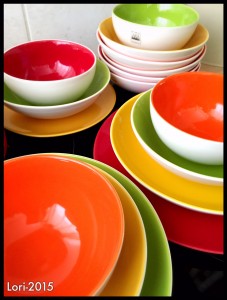 During my birthday celebration month, a friend gave me four colorful plates.   She knew I'd been talking for a long time about replacing our dish set, and since I hadn't found anything that truly reflected my style, I hadn't made the move to get anything new.
It is no secret that I adore color-  all things color, so the plates she gave me were perfect.   I went online, found the set and began to think about ordering them.    I had some 'mad money' stashed away for something special, and the more I thought about it-  I knew that these dishes were the right fit for me.
I took the splurge and ordered them, and absolutely adore them.  Marcel loves them too, which is a huge perk, considering he's very conservative when it comes to color.
I do believe our dishes reveal little pieces of who we are.   What do you think your dishes say about you?
2 Responses to "Color Splash"