August 7th, 2015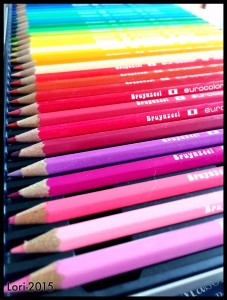 Years ago, I bought the tin container of colored pencils that you see on your left.    My reason for purchasing them at that time has long been forgotten, but recently I've rediscovered them and have been finding great joy in the basics of coloring.
A few months ago, a dear friend of mine who was moving to Arizona, and getting rid of almost everything handed me a coloring book for adults, a gift from her mother-in-law.    "Here, she says-  take this, and enjoy it."
I happily accepted her gift, and for a little while- it sat on the dresser in the guest room waiting patiently to be used.   Then one cold Sunday afternoon, I grabbed myself a cup of Chai tea, a blanket, the small box of colored pencils she gave me, along with the book, and out the door I went.     I went through the book methodically, trying to decide which to choose first.   No surprise to any who know me, I chose a page filled with cupcakes, and spent the next several hours totally engrossed in coloring each and every one.     The rest of the world was forgotten.
I was reconnected with one of my childhood favorites-  coloring.    A very basic past time- but a moment of quiet time spent intently with the colors and creativity that flowed from them.
On my birthday, one of my dearest friends gifted me with a box that contained a few more colored pencils, plus a book filled with coloring pages that are card sized, complete with envelopes.     The idea of creating small, beautiful works to then have a note written on the back, and passed on to someone else brought me great joy.     It combines two of my favorite things-   coloring and hand-written letters/ notes.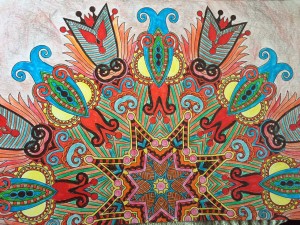 She gave me a small container of wide tipped markers, which reminded me that I also had some fine tipped markers that I use for letter writing.     It was also a reminder that I had the above pictured colored pencils.
A love affair was begun.   Coloring these little cards, and then sharing with others has been a huge source of joy for me.    I've colored several since then, and also bought yet another card coloring book so that I can continue to color, plus share the love by spreading happy to someone else's' mailbox.
I also ordered The Secret Garden coloring book, which I can't wait to spend time with as well.    It really is one of the best ways to relax and spend time with yourself.