May 5th, 2013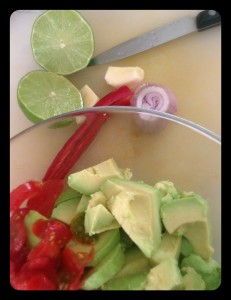 Happy Cinco de Mayo!!   It wouldn't be a celebration without none other than some freshly made gaucamole!   Ok- I'll admit- I didn't actualy make this 'today'.  I made it earlier in the week when I popped into a local grocery store and they had a 'guacamole kit'  on sale for 1.69.   I was a skeptic- especially since said kit was wrapped in cellophane and I couldn't tell much about the avocados other than they were ripe.  How ripe- well that was the question.
I planned to pick up a couple of avocados anyway- but since they were a dollar each- I thought I may as well go for the kit- since it included two avocados- plus everything else I needed for guacamole.    I put it in my cart and off I went to finish the rest of my shopping.
When I got home and opened said package- I was pleasantly surprised-  everything was fresh and when I sliced into the avocados I was blown away.  I think they were the pretties ones I've ever seen in my life (and that's saying something)!
So two avocados, garlic, onion, lime, a chili and tomato all in my little packet and made a perfect batch of guacamole.   The chili wasn't hot- so I did add some more 'heat' to kick things up a bit-  plus I added a tiny bit of salt.   Delish!
So much so-   that I had it for two nights in a row, and the fact that Marcel doesn't care for guacamole was in my benefit.
Ole!!
One Response to "Cinco de Mayo"