July 9th, 2015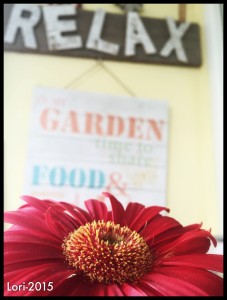 It has been a crazy week, so I'm thrilled to finally be kicking the weekend (my birthday weekend, no less) into gear a day early.
Yesterday I delived everything for a High Tea for a gorgeous group of women at a city about an hour from here.   From there- I went to another city- and delivered two batches of Caramels, where I spent a little time visiting and enjoying some amazing Spanish tapas with delicious French meats and cheeses.   Life really doesn't get better than that-   but it did..
From there- I went off to the local Le Creuset shop because I'm slowly working on replacing all of my pans, and a friend had given me a coupon for 10 off when you spend 50- so I not only found the perfect sautee' pan I wanted, but I also saved on my favorite brand, Le Creuset.
I popped into the Lindt shop, since the chocolate was practically calling my name.  I'm making a gift basket for someone, and adding chocolates to the basket is something I know they'll love.     I bought three bars of the Lindt specialties for them, and two for me-   My two- orange/dark chocolate and dark chocolate/mint.   My two favorite flavor combinations, ever.
My intent was to stop there-  after all, that's what I'd gone for, but I strolled by Michael Kors and low-and-behold I saw a cute yellow and white stripped summer canvas bag.  It reminded me of summer- but I kept walking.    Marcel, suggested I go back and 'check it out' and I decided NO, I didn't need to do any more shopping, and if you know me, then you KNOW I don't need another handbag…
But, he continued to suggest I 'check it out' and eventually I relented and went back.    I fell in love with the bag, in spite of not having the 'mandatory' zipper closure that I always require for a bag.   It was cute- summery- and begging me to buy it.    It didn't help that it was priced right.
So I did-   and not only did I buy the cute Michael Kors bag, but I also walked out with a matching yellow leather wallet-  that I also adore..      It was a busy day, but a fun one- perfectly matching my birthday month celebration.
Relaxation is also something that I find as important as work-   After all- if we can't refuel and recharge our bodies and minds- then we will be running on empty before we know it.
So today, I spent the day doing just that-  I made my birthday cake, so that tomorrow I can fill and ice it-  it will be ready for the big celebration come Saturday- which I'm highly anticipating..    I did some cleaning- and mostly I relaxed.  I am recharged and ready to take on the weekend.
How do you relax?