July 24th, 2012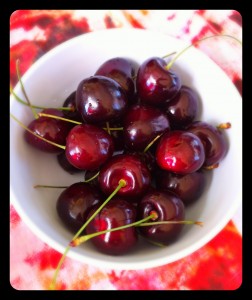 Life is like a bowl of cherries-   and in the literal sense this afternoon- as the photo you see to your left was my lunch today.   I spent part of the morning rushing around getting things done in the household-  (you know, the whole domestic goddess role) then rushed out to pick up a few groceries.
We got invited to a impromptu BBQ this morning and I was in the middle of making dinner, so I had originally said no- but then I thought-  I'll just finish the beet salad that we were going to have today and tomorrow- stuff it in the fridge- and then pick up a few things to take to the BBQ.   So a couple of loaves of whole-wheat French bread- some home-made herbed butter, a tomato-feta salad and some chicken breasts later- I'm ready!
If you didn't know- we are having some amazing weather in the land over Never- and right now I'm sitting outside typing this-   My whole plan was to get everything done as early as possible so I could spend the rest of the day just sitting out here relaxing and enjoying and that's exactly what I'm doing.
Catching up on a few emails-  tapping out a few letters-  doing a few writing assignments and spending a little time catching up here.
Life is sweet- and the cherries-  just as sweet.