November 21st, 2014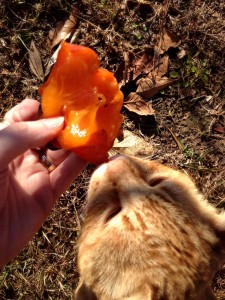 I love the South-   Granted, I am biased since it is my 'home', but there is something about coming home to the Deep South that feels like a warm hug and a blanket of love.    Maybe it's the hospitality-  maybe it's the family and friends-  the water- or maybe it's something that runs much deeper.
One of the things I love about this time of the year and being back 'home' is the fruit that can be found around the property.    Mom and diddy's persimmon tree produced in abundance this year- and I grabbed a ripe one that had fallen to the ground, and dug in.    Creamy and perfectly sweet-   delicious bliss.
But what is that?   A cat eating a persimmon?   What happened to mice and other creatures?   I'm sure they get their fair share of both, but a fan of persimmons they are.   You can find them on occasion gathered under the tree having their own Southern Style feast-  of nothing more than the orange colored fruits-      Who knew?  Certainly not I.   One thing I do know for sure-  that always magnificent Mister Mistoffelees wouldn't give it a second glance.