April 2nd, 2013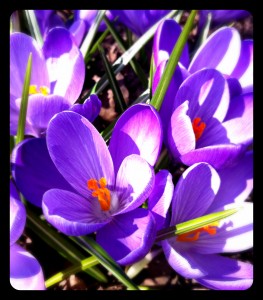 Yesterday Marcel and I drove up after a visit with friends and I saw in the midst of the bushes that had gone into hibernation for the winter, a burst of color.   A splash of vivid purple and I knew this could only mean one thing-   Crocuses.
I grabbed my iPhone and handed Marcel my handbag- and headed towards the bushes so I could capture this beautiful moment that assures me once again, Spring is on its way.
Couple this with sunshine and gorgeous blue skies and sprinkle in some time with good friends, and the day couldn't have been more perfect.
Today- I've spent some time working with gum paste-  sculpting to be precise for a cake that I'm going to be making.   My schedule is pretty tight the next couple of weeks, so I'm trying to squeeze in my sugar crafting whenever I can.   It's a process since things need to dry- but I made good progress today-   Tomorrow more.