October 26th, 2011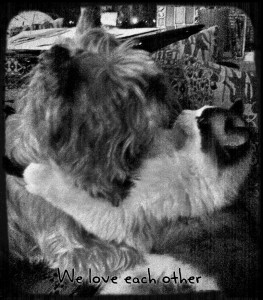 I've been spending a lot of time typing content for my site, and there is a light at the end of the tunnel.    The 'super amazing' friend who took on the project of doing the site really captured exactly what I wanted.   I'll go into more of that later- but I'm so grateful for the people who have helped make this all happen, because without them- I'm not sure where' I'd be-  
I have felt really tired the last couple of days and I think I may be coming down with a cold or maybe a sinus infection.  It's that time of the year and in spite of loving this weather we've been having- it has taken a toll.   Even with that said and me not feeling 100%, I'm still happy for the cool temps and sunshine.
It rained most of the day yesterday, but I had things to do inside- so it didn't matter.   
Earlier Mister M. and JJ found themselves in an embrace.  It wasn't a 'love' embrace, but more of a "JJ, this is what you get when you pounce on top of me when I'm curled up and trying to sleep on the couch."    I was glad I could get a quick snapshot- to share.
I am hoping between tomorrow and this weekend (Friday is insanely busy) that I'll get a chance to catch up on all of my photos of the day-  some of which will include photos from our travels.  
Sometime or another I hope to finish going through all our holiday photos as well- because I would love to share our travels with you.   I find myself missing London.    I don't consider myself a big city kind of girl- but I adored London.
2 Responses to "Brotherly Love- Or Something Like It"