May 20th, 2014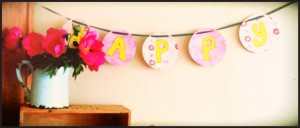 One of my favorite songs is "Happy" by Pharrell Williams.    I absolutely adored his interview with Oprah on the OWN network, and hearing the song ranks at the top of the happiness scale for me-  right along beside "I Gotta Feeling" by the Black Eyed Peas.
My favorite iPhone app, is without a doubt, the "Happier" app.    It's a place to share your daily moments of 'happy'.   The CHO (Chief Happier Officer), Nataly K. was the founder of this little start-up company, that is literally taking the world by storm.      The concept is that studies show how focusing on the little happy moments in your life- can improve your overall life experience, making you feel, not only happier, but also to find it easier to notice the tiny things that bring us joy and happiness.
Basically-  what you focus on grows, and since I've been doing gratitude lists for years, and taking the time to really notice the little things in life that bring me joy- this app was right up my happy alley!
I love it so much that I decided it would be fun to get together with other happy minded friends and have a day of happy!    For me, it was also a celebration of friendships- of honoring who they are-  their individuality and what they bring to my life.   Each of them make my life richer, simply by knowing them, and that's a huge gratitude for me.   After all,  my friendships are the family that I've chosen for myself.
I could have made the guest list even longer than it was, but even I have to draw the line somewhere-  especially since it was a gift to my friends as much as for me-   and I was making everything.     In the end-  there were 12 of us-   everyone was able to make it with the exception of 3 who were unable to be here that day-    they were certainly missed.
Here we are days later- and I'm still smiling.    Everyone seemed to have a great time-   they enjoyed the lunch, the snacks and of course, the desserts- all in celebration of the friendship and being happy that I have them all in my life.
Everyone brought something that makes them happy to share with everyone-  so at the end of the day- we all had happy gifts to take home.   Thinking of the thought, creativity and stories that went into each happy moment- makes me smile, and seeing some new potential friendships form, was like watching a flower blossom.
It makes me want to take the 'happy' to a larger level-   and who knows what that may mean in the future.
So tell me-  What makes YOU happy?