May 3rd, 2015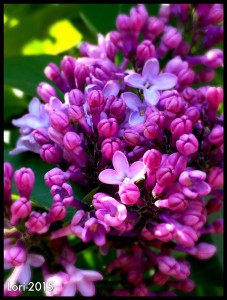 Yesterday afternoon I had a cupcake and cake delivery and I happened to be invited to the event, so I stuck around and spent some time with friends, plus afterwards found myself enjoying the picture perfect weather while wandering around the garden.    I came across this gorgeous lilac tree, which was starting to blossom.   I grabbed a few shots, and stood for a few moments allowing the sunbeams shine down upon my shoulders, while admiring the overall beauty of the day.
There is something to be said about taking the time to smell the roses- or in this case, the lilacs.   There is beauty in everything as long as we are open to recognize just that.
What was the beauty in your day?