December 8th, 2013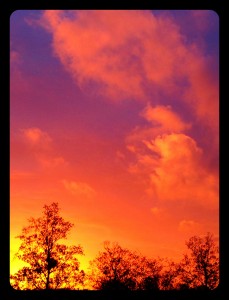 This picture on the right doesn't do it justice- but it's today's sunset.   I was in the middle of something, and out of the corner of my eye, I saw that the sky seemed to be glowing.  I looked out the window, and this is what I saw.   The sky ablaze as the sun said it's final farewell to us today.    It was breathtaking.
Today has been wonderful.  I had a slow start to the day- much needed after the busy week and day in the city yesterday.   I lounged while eating some apple-cinnamon crockpot steel cut oats,  and drinking pecan pie coffee- thinking about the cookies I want to make this year- and gathering not only inspiration, but recipes.
This afternoon found us shopping for our Christmas tree-  and I'll be the first to admit that when we pulled up to the store and saw the parking lot completely full- I was put-off by the idea of actually going inside the store, much less looking for a Christmas tree.
But, I knew it would be fun, and it was!  People were cheerful, and within moments of going through the garden area and into the live tree section- we found the tree that we knew was meant to be ours.   The only problem was, at that moment, someone else had it in their hands- trying to make a decision between it and the other.   But since it really was meant for us, they decided on the other tree, and we immediately put it in our shopping cart, and off we went.
As it turns out-  we also received a 20- gift card to use at the store between tomorrow and mid-December, which made the deal even sweeter.    In spite of the crowds, it was festive, and the sunset was the icing on the cake.
Tomorrow begins a busy week of baking and other fun, but I'm looking forward to it.   After all- tis the season.