July 3rd, 2015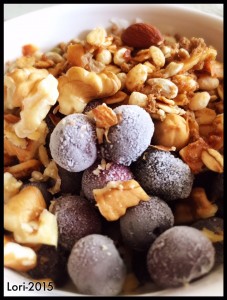 We are having a little heat wave here in the land of Never- and the order of the week food wise has looked a little like this-   Salads, Salads and more salads.   Plus various melons.
It hasn't been 'that' bad for me- since being from the Deep South- our heat always comes with a splash of humidity, bound to ruin even the best hair and make-up days.
After dinner-  (California chicken salad- a recipe from my dear friend Carol) I wanted something-   I decided on some frozen berries- a few pieces of crushed walnut- some museli- and I mixed some lemon and plain quark together.
My intent was to cool off with the frozen berries, but my taste buds did a little happy dance in my mouth-   It was SO good!
Have you ever tried frozen blueberries?  They are so good-
Happy 4th weekend y'all-   Be safe-   Eat some amazing BBQ and spend time with people you love-   Make memories.
2 Responses to "Beat the Heat"