February 2nd, 2014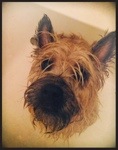 Yesterday, I took advantage of the gap in my schedule and decided to give JJ a little clip around his eyes, plus give him a bath. I'm blessed in the fact that he actually loves the bath, even more so when he gets to take his favorite toy along to keep things interesting.
Granted, it makes for a little longer bath time, but I can tell it brings him joy, so why not?
I mentioned buying a Furminator for Mister M. not too long ago, so yesterday I decided to give it a try on JJ's fur. It worked like a charm on him too, plus it allowed me to get rid of some of his excess fur, that may have otherwise ended up in his crate or on the floor.
So even though I bought the Furminator for long haired cats, it works on dogs too.
He is now all spiffed and ready for our upcoming road trip, which starts tomorrow. This will be our first time traveling with both pets, so should be an adventure.